Skippyjon Jones in Mummy Trouble (Paperback)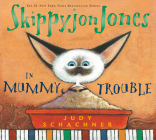 $8.99
Email or call for price
Description
---
El Skippito is back! His doggy pals want to visit the Under Mundo—the underworld—where mummitos rest in peas. But they need El Skippito's brains and courage to answer the riddle of the Finx and enter the mummy's tomb. Our hero is up to the task, and he's in for another whirlwind adventure.

Watch a Video
About the Author
---
Judith Byron Schachner has been illustrating and writing children's books since 1992 and has given numerous presentations in schools and libraries. Her workshops are designed to be warm and personal with a special regard for the less than stellar student.
"Kids love to review my rotten report cards and laugh out loud at a slide show involving 4 cats and a funeral. Teachers love the 'Seed Box' filled to the brim with a magical collection of 'Junk' to inspire the writer in all of us. Everyone loves to watch 'Don Juan Skippito Bumblito the Great Sword Fighter' come to life with pencil and paper. By the end of the day we all believe that the stories in our own lives are worth writing about."
Judith Byron Schachner grew up outside of Boston in the 1950's. Her early years were not easy: "Growing up we didn't have much money. My mother was very ill, and to make matters worse, I was extremely shy. All my teachers complained that 'Judith needs to speak up in class, Judith needs to improve in arithmetic, and Judith needs to finish her work on time.' But no one complained about my artwork. On paper I drew myself a world where mothers were healthy and teachers were kind. My life was perfection in pencil."
Judith graduated from the Massachusetts College of Art in 1973 with a BFA in illustration and went straight into the "greeting card factories, which included a stint at Hallmark. For five years I designed cute cards, sad cards, funny cards, and wedding cards. I was not having fun; in fact I never wanted to pick up a paintbrush again."
Married life changed many things for Judith. One clear advantage for her was that "for the first time in many years I could step off the 9 to 5 treadmill and devote all my energy to creating a portfolio of children's book art. That was until two little baby girls were born. Then motherhood became my favorite new job. Over the years I read hundreds of books to my daughters. Inspired by the art and words I was moved once again to finish my portfolio and take it on the road to New York. Around the same time I met Donna Jo Napoli who convinced Dutton Children's Books to let me illustrate her novel, The Prince of the Pond," published in 1992.
In 1995 Judith wrote and illustrated her first picture book, Willy and May, and has turned out a number of projects since then. "The wonderful thing about my job is that one day I can be writing about history, as I did in Mr. Emerson's Cook. The next day I'm drawing a wacky old woman for I Know An Old Lady Who Swallowed a Pie. Or I can bring to life a beloved pet cat in my book The Grannyman. I live in a constant state of 3rd grade bliss - making up stories and drawing pictures. Isn't that what we all did as children?"
Several years ago the great author Lloyd Alexander stood in Judith's back yard admiring her daughters' Viking ship (as Judith puts it, that's another story). Working with Lloyd Alexander has been a dream come true for Judith: "Never in my wildest fantasies did I ever think that my art would inhabit his world of words."
Listen to a SkippyjonJones audio clip!
Praise For…
---
"Fans will no doubt want more of the "beeg Chihuahua dude." —Kirkus Reviews