Three Little Cajun Pigs (Hardcover)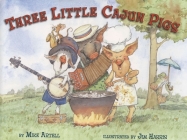 Description
---
Trosclair, Thibodeaux, and Ulysse are three pigs with a whole lot to do. Their mom has just kicked them out of the house and it's time they make their own way and start constructing new homes in the heart of the swamp. When ol' Claude the gator comes sneaking along, however, the three brothers are forced to question their choice of construction materials!
This hilarious tale from the creators of the popular Petite Rouge (which School Library Journal declared "A treat from start to finish") will once again take you to the heart of the Cajun swamps and show you the Three Little Pigs like you've never seen them.
About the Author
---
Mike Artell is an award-winning children's book author, illustrator and television cartoonist. Mike's books include nationally recognized lift-the-flap board books for small children and non-fiction books for older children. Mike has also written and illustrated teacher and parent resource books on subjects as diverse as ecology, parties, drawing and young authorship. In addition to his work as an author and illustrator, Mike also has extensive experience as:
· A musician who plays guitar, bass, keyboard and blues harmonica.
· A storyteller who regularly performs original poems and tales.
· A newspaper editorial cartoonist.
· A magazine and greeting card writer and cartoonist.
· A keynote speaker for major educational conferences.
· A marketing consultant/board member for several high technology companies.
· The host of his own television cartooning show.
Each year, Mike shares his books and his writing/drawing techniques with thousands of students at dozens of schools across the country. During that same year, Mike typically writes and illustrates 2 books, conducts 6 teacher workshops, addresses 10 educational conferences and visits 6 libraries or children's museums.
Mike also conducts "author/illustrator in residence" programs at schools. Mike has personally guided more than 4,000 students through the process of writing and illustrating their own picture books. For this work, Mike was recognized by the Northshore (LA) chapter of the International Reading Association for "exemplary service in the promotion of literacy."
Several of Mike's books have been award-winners. Most recently, Mike's astronomy book for children, Starry Skies, was named a 1998 Best Science Book For Children by Science Books and Films magazine, a publication of the American Association for the Advancement of Science. Mike's books have also been named "Pick of the Lists" by Publisher's Weekly, "Top 100" by Curriculum Administrator Magazine and "Teacher's Choice" by Learning Magazine.
Praise For…
---
"This retelling of the traditional story is Cajun both in language and lesson. Emphasizing devotion to family and extending others the benefit of the doubt, it also conveys the very Cajun notion that there are few situations that cannot be improved with a big pot of gumbo among friends." —Kirkus Reviews