The Last Hill: The Epic Story of a Ranger Battalion and the Battle That Defined WWII (CD-Audio)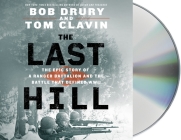 $39.99
Email or call for price
Description
---
Bob Drury and Tom Clavin's The Last Hill is the incredible untold story of one Ranger battalion's heroism and courage in World War II.

They were known as "Rudder's Rangers," the most elite and experienced attack unit the Army had. In December 1944, they would be the spearhead into Germany, taking the war into Hitler's homeland at last. Their colonel was given this objective: Take Hill 400. The second objective: Hold Hill 400. To the last man, if necessary. The battle-hardened battalion had no idea that the German Volks-Grenadiers, who greatly outnumbered the Rangers, had been given the exact same orders. The clash of the two determined forces was one of the bloodiest and costly ones of World War II.

Castle Hill, the imposing 400-foot mini-mountain the grunts simply called Hill 400, was the gateway to still-powerful Nazi Germany. Even an entire division had been repulsed by the desperate defenders. The Allies had to have it to drive a dagger into Germany's heart. Hitler had to hold onto it because hidden behind it was the massive army of men and machines poised to smash their way through Allied lines in the Battle of the Bulge.

The stalemate could not continue. For Gen. Dwight Eisenhower and his top brass, there was only one solution: Send in the Rangers. After two days, when they were finally relieved, only 16 Rangers remained to stagger down from the top of Hill 400. The Last Hill is filled with unforgettable action and characters—a gripping, finely detailed saga of what the survivors of the battalion would call "our longest day."

A Macmillan Audio production from St. Martin's Press.
About the Author
---
BOB DRURY, the recipient of several national journalism awards, is a three-time National Magazine Award finalist as well as a Pulitzer Prize nominee. Drury honed his investigative skills writing for all four New York City newspapers as well as a variety of national publications. His journalism career has arced from sports to crime to adventure travel to foreign correspondence. He is also the author, co-author, or editor of ten non-fiction books, including Blood and Treasure, Valley Forge, and Lucky 666.

TOM CLAVIN is a #1 New York Times bestselling author and has worked as a newspaper editor, magazine writer, TV and radio commentator, and a reporter for The New York Times. He has received awards from the Society of Professional Journalists, Marine Corps Heritage Foundation, and National Newspaper Association. His books include the bestselling Frontier Lawmen trilogy—Wild Bill, Dodge City, and Tombstone—and Blood and Treasure with Bob Drury. He lives in Sag Harbor, NY.