Miracle Man: The Story of Jesus (CD-Audio)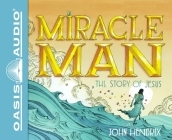 $10.99
Email or call for price.
Description
---
Miracle Man is a beautifully illustrated biography of Jesus Christ by award-winning author and illustrator John Hendrix. For all Christian denominations and perfect for families to share throughout the year, this book will be especially beloved by the faithful as a gift for Easter, communions, christenings, religious graduations, and all other secular holidays.
 
This book freshly reinterprets some of the oldest and best-known stories in human history and focuses on some of the many miracles that Jesus performed before his crucifixion. Jesus's miracles are endless. From the large harvest of fish to washing the unclean, healing the sick, feeding the poor, and walking on water, Jesus performs feats that draw in believers that he is the Son of God. Unfortunately it also attracts the attention of nonbelievers, who saddle him with the cross he must bear. After all of his miraculous acts, the book closes with a final wonder for all to see—one that changes faith and religion as the world knows it, forever. The book includes a list of Bible stories that inspired it.
 
Award-winning author and illustrator John Hendrix offers his most personal work to date. Known for his striking use of illustration mixed with custom fonts, his depiction of the life of Jesus Christ will be cherished by the faithful everywhere.
About the Author
---
John Hendrix is the author and/or illustrator of several critically acclaimed books for children. They include John Brown: His Fight for Freedom and Shooting at the Stars: The Christmas Truce of 1914 — both of which he wrote as well as illustrated — and Nurse, Soldier, Spy by Marissa Moss and McToad Mows Tiny Island by Tom Angleberger. John also created Drawing Is Magic: Discovering Yourself in a Sketchbook. He lives in St. Louis, Missouri, with his wife and children.